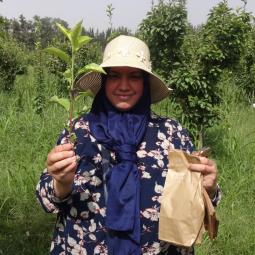 Membership type: full
Sanna Abdessemed
Country of origin: Algeria
Currently in: Algeria, Constantine
General field of specialization: Agricultural Sciences
---
Academic Background

Degrees

2017 Doctorate Biological Systems and Organisms

2009 Master Biological Systems and Organisms

2006 Undergraduate Engineering sciences

Research and Profession

Current Research Activities

Agricultural Sciences

I am a permanent researcher at the Biotechnology Research Center -Constantine, Algeria; my research work is focused on the genetic diversity study of local varieties (olive, apple and pear varieties) in finding and characterizing for resistant to disease .

Publications resulting from Research:

1/S.Abdessemed, I.Muzzalupo, H.Benbouza: Assessment of genetic diversity among Algerian olive (Olea europaea L.) Cultivars using SSR marker. Scienta Horticulture 192 (2015)10- 20.
2/S. Abdessemed, A. Abdessemed, RH. Boudchicha, H. Benbouza : Caractérisation et identification de quelques écotypes d'olivier Olea europaea L en Algérie. Agriculture Journal(2018) ,8(2) : 26-43.

Current profession

Current professional activities type:

Prizes, Grants and Awards

Other Awards

Sep 2018

Borlaug Fellowship

The Borlaug International Agricultural Science and Technology Fellowship Program promote food security and economic growth by providing training and collaborative research opportunities to fellows from developing and middle- income countries.