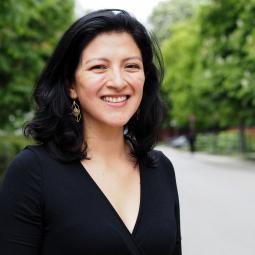 Membership type: full
Paola Carrillo-Bustamante
Country of origin: Ecuador
Currently in: Germany, Berlin
General field of specialization: Biological Systems and Organisms
---
Academic Background

Degrees

2015 Doctorate Other

2010 Master Engineering sciences

2008 Undergraduate Engineering sciences

Research and Profession

Current Research Activities

Biological Systems and Organisms

I am a staff scientist in the field of theoretical vector biology. I study the transmission of mosquito-borne diseases with computational modeling.

Publications resulting from Research:

MOSQUITO METABOLISM SHAPES PLASMODIUM TRANSMISSION AND EVOLUTION
P. Carrillo-Bustamante, G. Costa, L. Lampe, E. A. Levashina (in preparation)

MOSQUITO MICROEVOLUTION DRIVES PLASMODIUM FALCIPARUM DYNAMICS.
M. Gildenhard, E. K. Rono, A. Diarra, A. Boissière, P. Bascunan, P. Carrillo-Bustamante, [and 22 others]. 2019. Nature Microbiology (4) 941-947.

NON-COMPETITIVE RESOURCE EXPLOITATION WITHIN MOSQUITO SHAPES WITHIN-HOST MALARIA INFECTIVITY AND VIRULENCE.
G. Costa, M. Gildenhard, M. Eldering, R. L. Lindquist, A. E. Hauser, R. Sauerwein, C. Goosmann, V. Brinkmann, P Carrillo-Bustamante, E.A. Levashina. 2018. Nature Communications 9 (3474).

EXPERIMENTAL AND COMPUTATIONAL ANALYSES REVEAL THAT ENVIRONMENTAL RESTRICTIONS SHAPE HIV-1 SPREAD IN 3D CULTURES.
A. Imle, P. Kumberger, N. D. Schnellbächer, J. Fehr, P. Carrillo-Bustamante, A. Janez, [and 10 others]. 2019. Nature Communications 10 (2144)

DETERMINING RIBAVIRIN'S MECHANISM OF ACTION AGAINST LASSA VIRUS INFECTION.
P. Carrillo-Bustamante, T. H. T. Nguyen, L. Oestereich, S. Günther, J. Guedj, F. Graw. 2017. Scientific Reports 7(1).

SPECIFICITY OF INHIBITORY KIRS ENABLES NK CELLS TO DETECT CHANGES IN AN ALTERED PEPTIDE ENVIRONMENT.
P. Carrillo-Bustamante, R.J. De Boer, C Kesmir. 2017. Immunogenetics 1-11.

THE EVOLUTION OF NK CELL RECEPTORS.
P. Carrillo-Bustamante, C. Kesmir, R.J. De Boer. 2015. Immunogenetics 1-16.

CAN SELECTIVE MHC DOWNREGULATION EXPLAIN THE SPECIFICITY AND GENETIC DIVERSITY OF NK CELL RECEPTORS?
P. Carrillo-Bustamante, C. Kesmir, R.J. De Boer. 2015. Frontiers Immunology 6:311.

A CO-EVOLUTIONARY ARMS RACE BETWEEN HOSTS AND VIRUSES DRIVES POLYMORPHISM AND POLYGENICITY OF NK CELL RECEPTORS.
P. Carrillo-Bustamante, C. Kesmir, R.J. De Boer. 2015. Molecular Biology and Evolution. msv096.

QUANTIFYING THE PROTECTION OF ACTIVATING AND INHIBITING NK CELL RECEPTORS DURING INFECTION WITH A CMV-LIKE VIRUS
P Carrillo-Bustamante, C Kesmir, RJ De Boer. 2014. Frontiers in Immunology.

VIRUS ENCODED MHC-LIKE DECOYS DIVERSIFY THE INHIBITORY KIR REPERTOIRE.
P. Carrillo-Bustamante, C. Kesmir, R.J. De Boer. 2013. PLoS Computational Biology; 9(10)

Current profession

Current professional activities type:

Malaria and dengue represent a major global health burden. Although these diseases are transmitted by mosquitoes, current eradication strategies often neglect their complex biological traits. I use bottom-up modelling approaches that integrate knowledge gained in field and laboratory settings into mathematical models of transmission. By quantifying how individual mosquito traits shape pathogen transmission in humans, I aim to identify novel mechanisms or misconceptions in the way transmission occurs.

Prizes, Grants and Awards

Other Awards

Jan 2021

Falling Walls Intensive Track Female Science Talents

Nov 2020

Klaus-Tschira Boost Fund

Nov 2018

Best Oral presentation. V International Meeting of Research in Infectious Diseases and Tropical Medicine in Quito, Ecuador.