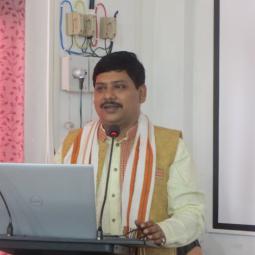 Membership type: friends
Suman CHAKRABARTY
Country of origin: India
Currently in: India, Kolkata
General field of specialization: Medical and Health Sciences incl Neurosciences
---
Academic Background

Degrees

2009 Doctorate Medical and Health Sciences incl Neurosciences

Research and Profession

Current Research Activities

Other

Currently I am working in Gender role and attitudes towards child health care practices in north 24 parganas district in West Bengal, India. Besides, I am also working in the field of violence against women in India.

Publications resulting from Research:

1. Roy P, Bharati P, Chakravarty S. 2020. Adolescent Obesity and Mental Health Status in Asian Countries: A Systematic Review. International Journal of Statistical Sciences, 19, 103-124.
2. Malitha JM, Islam MA, Islam S, Mamun ASMA, Chakrabarty S, Hossain MG. 2020. . Early age at menarche and its associated factors in school girls (age, 10 to 12 years) in Bangladesh: a cross-section survey in Rajshahi district, Bangladesh. Journal of Physiological Anthropology 39 (6).
3. Chakrabarty S. 2019. Socio-Economic Inequalities and Food Security among the Rabha Tribe Living in Fringe Forest Areas of North Bengal. In Development and Deprivation in the Indian Subcontinent. Edited by U. K. Dey and M. Pal. Kolkata: Levant Books. Pp 369-385. (ISBN: 978-93-88069-19-9)
4. Chakrabarty S. 2018. Barriers and Opportunities in Tribal Development: A Case Study among the Rava Tribe Living in Fringe Forest Areas of North Bengal, India. In Anthropology and Tribal Development, Edited by S. Biswas and A. Das. New Delhi: Concept Publishing Company Private Ltd., pp 1- 14. (ISBN 93-86682-40-0)
5. Bharati S, Islam Md. A, Chakrabarty S, Pal M, Bharati P. 2017. Patterns, Determinants and Comparative Account of Son Preferences in India. Genus Homo 1: 12-31. (ISSN 2457-0028).
6. Bharati S, Pal M, Chakrabarty S, Bharati P. 2015. Socioeconomic Determinants of Iron-Deficiency Anemia among Children Aged 6 to 59 Months in India. Asia Pacific Journal of Public Health. Asia Pacific Journal of Public Health 27 (2): NP1432-NP1443.
7. Chakrabarty S, Bharati P. 2010. Adult Body Dimension and Determinants of Chronic Energy Deficiency among the Shabar Tribe Living in Urban, Rural and Forest Habitats in Orissa, India. Annals of Human Biology 37: 149-167.
8. Chakrabarty S, Bharati P. 2010. Nutritional status among the Shabar tribal children living in urban, rural and forest habitats of Orissa, India. Italian Journal of Public Health 8: 183-190.
9. Som S, Pal M, Chakrabarty S and Bharati P. 2010. Socioeconomic impact on child immunisation in the districts of West Bengal, India. Singapore Medical Journal 51(5): 406-412.
10. Bharati P, Som S, Chakrabarty S, Bharati S, Pal M. 2008. Prevalence of anemia and its determinants among non pregnant and pregnant women in India. Asia Pacific Journal of Public Health 20: 347- 359.

Current profession

Current professional activities type:

At present my main duty is to teach UG students in Anthropology and Food and Nutrition. Besides, I am also doing some research work as a consultant as well as collaboration.

Affiliations

American Anthropological Association

Presentation given

2020

COVID-19 Webinar: Indian Perspectives, Conceptualizing Medical Anthropology

USA, https://www.youtube.com/watch?time_continue=2&v=Boy_vl9BnPk&feature=emb_logo

Event: Webinar series organized by American Anthropological Association, Society for Medical Anthropology and Anthropological Responses to Health Emergencies (SIG)

Prizes, Grants and Awards

Other Awards

Aug 2003

JRF and SRF

JRF and SRF awarded from Biological Anthropology Unit of Indian Statistical Institute, Kolkata for more than 5 years

Jul 2009

UGC-Dr. D.S. Kothari Postdoctoral Fellowship

After completing PhD, received the Postdoctoral award from UGC, India and did a project on Forest Conservation and Tribal Health Status in Central India.