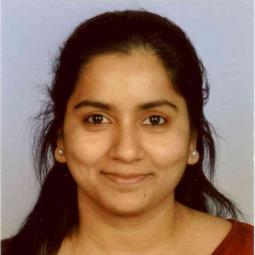 Membership type: full
Vasudharani Devanathan
Country of origin: India
Currently in: India, Tirupati
General field of specialization: Biological Systems and Organisms
---
Academic Background

Degrees

2008 Doctorate Biological Systems and Organisms

Research and Profession

Current Research Activities

Biological Systems and Organisms

Neuroscience research: understanding the process of neuritogenesis in brain and retina. Alterations in neuritogenesis and/or neurite length in altered glycemic conditions. Resveratrol like native plant product and its role in spinal cord regeneration. Signalling pathways involved in regulating neuritogenesis.

Publications resulting from Research:

1: Sharma S, Chakravarthy H, Suresh G, Devanathan V. Adult Goat Retinal Neuronal
Culture: Applications in Modeling Hyperglycemia. Front Neurosci. 2019 Sep
16;13:983. doi: 10.3389/fnins.2019.00983. eCollection 2019. PubMed PMID:
31607843; PubMed Central PMCID: PMC6756134.


2: Chakravarthy H, Devanathan V. Molecular Mechanisms Mediating Diabetic Retinal
Neurodegeneration: Potential Research Avenues and Therapeutic Targets. J Mol
Neurosci. 2018 Nov;66(3):445-461. doi: 10.1007/s12031-018-1188-x. Epub 2018 Oct
6. Review. PubMed PMID: 30293228.


3: Dasagrandhi D, R ASK, Muthuswamy A, Lennox AM, Jayavelu T, Devanathan V,
Kesavan Swaminathan J. Ischemia/reperfusion injury in male guinea pigs: An
efficient model to investigate myocardial damage in cardiovascular complications.
Biomed Pharmacother. 2018 Mar;99:469-479. doi: 10.1016/j.biopha.2018.01.087. Epub
2018 Feb 20. PubMed PMID: 29665648.


4: Devanathan V, Hagedorn I, Köhler D, Pexa K, Cherpokova D, Kraft P, Singh M,
Rosenberger P, Stoll G, Birnbaumer L, Piekorz RP, Beer-Hammer S, Nieswandt B,
Nürnberg B. Platelet Gi protein Gαi2 is an essential mediator of
thrombo-inflammatory organ damage in mice. Proc Natl Acad Sci U S A. 2015 May
19;112(20):6491-6. doi: 10.1073/pnas.1505887112. Epub 2015 May 5. PubMed PMID:
25944935; PubMed Central PMCID: PMC4443332.


5: König K, Marth L, Roissant J, Granja T, Jennewein C, Devanathan V, Schneider
M, Köhler D, Zarbock A, Rosenberger P. The plexin C1 receptor promotes acute
inflammation. Eur J Immunol. 2014 Sep;44(9):2648-58. doi: 10.1002/eji.201343968.
Epub 2014 Jun 30. PubMed PMID: 24890788.


6: Köhler D, Devanathan V, Bernardo de Oliveira Franz C, Eldh T, Novakovic A,
Roth JM, Granja T, Birnbaumer L, Rosenberger P, Beer-Hammer S, Nürnberg B. Gαi2-
and Gαi3-deficient mice display opposite severity of myocardial ischemia
reperfusion injury. PLoS One. 2014 May 23;9(5):e98325. doi:
10.1371/journal.pone.0098325. eCollection 2014. Erratum in: PLoS One.
2015;10(3):e0119092. PubMed PMID: 24858945; PubMed Central PMCID: PMC4032280.


7: Busse K, Strotmann R, Strecker K, Wegner F, Devanathan V, Gohla A, Schöneberg
T, Schwarz J. Adaptive gene regulation in the Striatum of RGS9-deficient mice.
PLoS One. 2014 Mar 24;9(3):e92605. doi: 10.1371/journal.pone.0092605. eCollection
2014. PubMed PMID: 24663062; PubMed Central PMCID: PMC3963927.


8: Siraskar B, Huang DY, Pakladok T, Siraskar G, Sopjani M, Alesutan I,
Kucherenko Y, Almilaji A, Devanathan V, Shumilina E, Föller M, Munoz C, Lang F.
Downregulation of the renal outer medullary K(+) channel ROMK by the
AMP-activated protein kinase. Pflugers Arch. 2013 Feb;465(2):233-45. doi:
10.1007/s00424-012-1180-1. Epub 2012 Nov 22. PubMed PMID: 23179379.


9: Devanathan V, Jakovcevski I, Santuccione A, Li S, Lee HJ, Peles E,
Leshchyns'ka I, Sytnyk V, Schachner M. Cellular form of prion protein inhibits
Reelin-mediated shedding of Caspr from the neuronal cell surface to potentiate
Caspr-mediated inhibition of neurite outgrowth. J Neurosci. 2010 Jul
7;30(27):9292-305. doi: 10.1523/JNEUROSCI.5657-09.2010. PubMed PMID: 20610764;
PubMed Central PMCID: PMC6632488.


Current profession

Current professional activities type:

I teach bachelors and PhD students at IISER. I teach both foundation courses and also specialised courses like Neuroscience. Currently, I am also the chair of students committee. The neuroscience lab at IISER tirupati headed by me has 3 PhD students, 2 Postdocs and 3 Graduate students. I am also involved outreach activities. I have also been nominated as DAAD research ambassador.