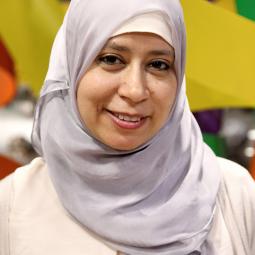 Membership type: full
May Eid
Country of origin: Egypt
Currently in: Egypt, Cairo
General field of specialization: Other
---
Academic Background

Degrees

2010 Doctorate Other

Research and Profession

Current Research Activities

Other

Recently, two projects were running in my lab, first one was to study the cytotoxicity of nanoparticles on cancerous and normal cells. The second project studied the green route synthesis of different kinds of nanoparticles and nano-composites, their characterization and their potential applications according to their physical- chemical properties. Since then I have moved totally to this filed, I am now trying to concentrate on medical application since this is my main interest from the beginning, although I have passed by the procedures of synthesis and characterization. Recently, I am supervising a couple of PhD thesis for drug delivery and I am a member of a project to apply core-shell NPS for gene delivery. The last two years, I have started to learn new technique to study the molecular changes In-vivo upon the exposure to NPs, this technique uses FTIR microscopy to measure the biochemical changes in cells and tissues.

Publications resulting from Research:

1. Eid MM, El-Hallouty SM, El-Manawaty M, Abdelzaher FH. Physicochemical Characterization and Biocompatibility of SPION@ Plasmonic@ Chitosan Core-Shell Nanocomposite Biosynthesized from Fungus Species. Journal of Nanomaterials. 2019;2019.
2. Eid, M.M., El-Hallouty, S.M., El-Manawaty, M., Abdelzaher, F.H., Al-Hada, M. and Ismail, A.M., Preparation conditions effect on the physico-chemical properties of magnetic–plasmonic core–shell nanoparticles functionalized with chitosan: Green route. Nano-Structures & Nano-Objects, 2018, 16, pp.215-223.
3. Abdel-Fattah, W.I., Eid, M.M.,, Abd El-Moez, S.I, Mohamed, E. Ali, G.W.aSynthesis of biogenic Ag@Pd Core-shell nanoparticles having anti-cancer/anti-microbial functions, Life Sciences, 2017, 183, 28-36.
4. M.E.Osman, M.M. Eid, O.H. Khattab, S. M. El-Hallouty, D. A. Mahmoud, Biosynthesis and characterization of silver Nano-particles by local fungal isolates from Egyptian soil, Quantum Matter, 2016, 5, 1-7.
5. May.M.Eid, Spectroscopic characterization of iron oxide nanoparticles functionalized with Chitosan biosynthesis by a clean, one pot method, Middle East Journal of Applied Sciences. 2015,5, 5 18-22
6. Mohamed E. Osman, May.M. Eid, Om kolthoum H. Khattab, Seham M. El-Marakby, Doaa Mahmoud, Salwa M. El-Hallouty, Spectroscopic Characterization of the Effect of Gamma Radiation on the Physical Parameters of Biosynthesized Silver/Chitosan Nano-particles and their Antimicrobial Activity. Material Express, (2015), 095023
7. M.E.Osman, M.M. Eid, O.H. Khattab, S. M. El-Hallouty, M.El-Manawaty, D. A. Mahmoud, In vitro cytotoxicity of biosynthesized Ag/CS NP against MCF7, PC3 and A549 Cancer cell lines. Int.J. PharmTech Res., 8(5), 1011-1017, 2015.
8. Osman M.E., Eid M.M., Khattab O.H., Abd-El All S.M., El-Hallouty S.M., Mahmoud D.A. Optimization and spectroscopic characterization of the biosynthesized Silver/Chitosan Nanocomposite from Aspergillus deflectus and Penicillium pinophilum, JCBPSC. 5(3), 2015.
9. W I Abdel-Fattah , M M Eid , M F Hanafy , M Hussein , Sh I Abd El-Moez4 , S M El-Hallouty and E Mohamed, Verification of resistance to three mediated microbial strains and cancerous defense against MCF7 compared to HepG2 through microwave synthesized plant-mediated silver nanoparticle, Adv. Nat. Sci.: Nanosci. Nanotechnol. 6 (2015), 035002.


Current profession

Current professional activities type:

last year I earned a collaborative project with CNR in Italy to study the application of NPs as a vaccine adjuvants applying Synchrotron radiation and single cell detection using FTIR microscopy to study the immune system response and modulation.