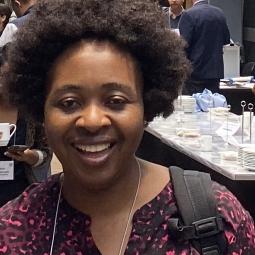 Membership type: full
Chindo Nwankwo
Country of origin: Nigeria
Currently in: United Kingdom, Leeds
General field of specialization: Engineering sciences
---
Academic Background

Degrees

2014 Doctorate Engineering sciences

Research and Profession

Current Research Activities

Engineering sciences

Many years of research experience in graduate-level civil and public health engineering, with focus in the areas of Water, Sanitation and Hygiene (WASH), solid waste management, environment, development and sustainability. Have developed a mechanism to deliver sustainable safe drinking water and sanitation services to support health security in coastal communities in developing countries. This study contributed to knowledge on sanitation challenges within the selected waterfronts in achieving the United Nations (UN) Sustainable Development Goal number 6 (SDG6)

Publications resulting from Research:

1. Osimobi, O.J, Yokor, B. and Nwankwo, C.A. (2019) Evaluation of Daily Pollutant Standard Index and Air Quality Index in a University Campus in Nigeria using PM10 and PM2.5 Particulate Matter. Journal of Science, Technology and Environment Informatics (JSTEI). Volume 7 Issue 2 pp. 517-532
2. Ugwoha, Ejikeme, Nwankwo, Chindo A., and Jumbo, Raphael Butler (2017). Modeling the Remediation of Diesel Contaminated Soil Using Palm Bunch Ash. International Journal of Advancement in Engineering Technology, Management & Applied Science (IJAAETMAS) Volume 4 Issue 3 pp.73 - 8211.
3. C.A. Nwankwo, Amah, V. E, Ugwoha, E, Ugbir, P (2017). Energy and Material Recovery from Solid Waste Generated at Rumuokoro Market in Port Harcourt, Nigeria. International Journal of Science and Research (IJSR) Volume 6 Issue 2 pp. 1701 – 1705
4. Ejikeme Ugwoha, Chindo A. Nwankwo and Chinemerem B. Okoronkwo (2016). Effect of Soil Type on the Fate of Kerosene Compounds in the Presence of Water and Ethanol. Journal of Environmental Studies Volume 2 Issue 1 pp. 1-8
5. Nwankwo, C.A, Amah, V.E. (2016). Estimating Energy Content of Municipal Solid Waste by Multiple Regression Analysis. International Journal of Science and Research Volume 5 Issue 6 pp. 687 - 691
6. C.A. Nwankwo, Amah, V. E, and Onwukwo. Q.C (2016). Solid Waste Management Plan at Ibminapolo Community, Port Harcourt Nigeria. Journal of Engineering and Scientific Research (JESR) Volume 1 Issue 1 pp. 59 -66
7. Chindo A. Nwankwo, Samuel Edoho, and Abubakar Mohammed (2014). Recycling of Sawdust and Water Hyacinth into Compost. International Journal of Engineering Science Invention. Volume 3 Issue 7 pp. 72-76.
8. Nwankwo, C, Mohammed, A., Ikyereve, R. and Dawari, B. (2014). The Impact of Human Water Exploitation on Physico-Chemical Characteristic of Mmubete River in the Niger Delta, Nigeria. International Journal of Science and Technology. Volume 3 Issue 5 pp. 292-297.
9. Ikyereve, R, Mohammed, A and Nwankwo, C. (2014). Performance of Natural Zeolites in the Removal of Metal Ions from Crude Oil. Journal of Science & Technology. Volume 4 Issue 3 pp. 141-144.
10. Nwankwo, C.A, Stentiford, E.I. and Fletcher, L.A. (2014). Use of Compost to Enhance the Growth of Tomatoes in Soil Contaminated with Nigerian Crude Oil. Journal of Applied Sciences. Volume 14 Issue 19 pp. 2391–2395.

Current profession

Current professional activities type:

Affiliations

Institute of safety professionals of Nigeria

Prizes, Grants and Awards

Other Awards

Jun 2009

PhD

Recipient of a Scholarship from the Federal Government of Nigeria's Petroleum Technology Development Fund (PTDF) to undertake doctorate studies and research at the University of the Leeds, UK.

Mar 2018

Post doctoral fellowship

Recipient of Commonwealth Scholarship through the prestigious Rutherford foundation to undertake a post-doctoral fellowship at the University of Leeds, UK. This scholarship was funded by the UK Department for Business, Energy and Industrial Strategy.