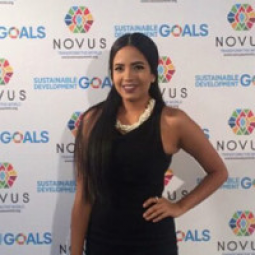 Membership type: full
Andrea Marzeth Padilla Cruz
Country of origin: Honduras
Currently in: United Kingdom, London
General field of specialization: Other
---
Academic Background

Degrees

2020 Master Other

2016 Undergraduate Social and Economic Sciences

Research and Profession

Current Research Activities

Other

Research conducted is based on military innovation and strategy, including the use of new and emerging technologies. Also explored is other contemporary security challenges such as terrorism, cybersecurity and cyberwarfare, energy supply security and climate change.

Publications resulting from Research:

1. García Rodríguez, A., Padilla, A. M., & Siudak, R. (2020, February). Post-Quantum International Security (Publication No. ISSN 1689-9873). Retrieved https://ik.org.pl/wp-content/uploads/ik_policy_brief_post-quantum-international-security.pdf
2. Padilla, A. M. (2019, June 26). Energy (In)Security in Central Asia. Retrieved from https://thesecuritydistillery.org/all-articles/energy-insecurity-in-central-asia
3. Padilla, A. M., Vingert, L., & Garrido M. (2019, June 5). Latin America: The World's Deadliest Region for Environmental Activism. Retrieved from https://thesecuritydistillery.org/all-articles/latin-america-the-worlds-deadliest-region-for-environmental-activism

Workshop and Conference Attended

2019 Regensburg, Germany Strategic Intelligence Analysis

2019 Poznan, Poland Eurasian Insights: Strengthening Central Asia Studies in Europe

2019 Dublin, Ireland STAND Global Issues

2018 Glasgow, UK Sir Julian King - 'Security Challenges facing Europe'

Affiliations

Habitat for Humanity Prince William County

World Youth Alliance

Amnesty International

Prizes, Grants and Awards

Other Awards

May 2018

EU's Erasmus Mundus Joint Master Degree (EMJMD)

EMJMDs award EU-funded scholarships to the best student candidates applying under annual selection rounds for undertaking a master's degree in Europe. I was selected as the first Honduran female to study the International Master in Security, Intelligence and Strategic Studies (IMSISS) at University of Glasgow (UK), Dublin City University (Ireland), and Charles University (Czech Republic).