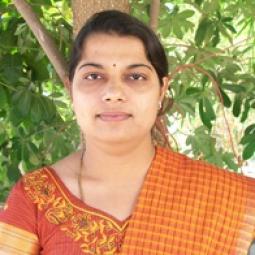 Membership type: full
Jyoti Patil
Country of origin: India
Currently in: India, Pune
General field of specialization: Medical and Health Sciences incl Neurosciences
---
Academic Background

Degrees

2020 Doctorate Physics

Research and Profession

Current Research Activities

Medical and Health Sciences incl Neurosciences

Detection of Diabetic retinopathy and glaucoma using image processing in MATLAB

Publications resulting from Research:

DRDO Sponsored Eighth Control Instrumentation System Conference, CISCON-2011(An International Conference)," Development of Digital Image Processing tool for diagnosis of eye infection using MATLAB, November 3-6, 2011, published in Proceedings of the DRDO.
International Workshop on Green Energy Technologies (IWGET), Production of Biodiesel Using Jatropha, association with International Conference on Eco-friendly Computing and Communication Systems (ICECCS), Kochi, Kerala India.
International Journal of Scientific and Engineering Research (IJSER) - (ISSN 2229-5518), Detection of Diabetic Retinopathy Using Sobel edge detection method in DIP, IJSER Volume 3, Issue 7, July 2012.
International journal of advanced renewable energy research, Jyoti Patil, Vol. 1, Issue. 6, pp. 323-326, 2012, Production of Renewable Energy Source (Biodiesel) By Vegetable Oil.
International Journal of Applied Information Systems, Foundation of Computer Science, FCS, New York, USA ISSN: 2249-0868, Tool for the Detection of Diabetic Retinopathy using Image Enhancement Method in DIP , Volume3, No3., July 2012.
International Journal of Applied Information Systems ISSN: 2249-0868, Foundation of Computer Science, FCS, New York, USA, Intensity Observation of Conjunctivitis using DIP Volume 4 No.4, October 2012.
International Journal of Computer Applications (0975 8887),Development of Digital Image Processing uses Fuzzy Gaussian Filter Tool for Diagnosis of Eye Infection, Volume 51 No.19, August 2012.
AVISHKAR-2015, Savitribai Phule Pune University, Zonal level project competition.
AVISHKAR-2015, Savitribai Phule Pune University, University level research project competition.
International conference on "Innovative trends in Chemical, Physical and Biosciences  ITCPB," Study of Biodiesel from Jatropha , 9th & 10th Feb. 2016.
International Journal of Chemical and Physical Sciences, Temperature Dependant Analysis of Dielectric constant, Mole fraction, Wave vector and its Effect on Energy in GaN/AlGaN Quantum Heterostructures, Vol. 5 Special Issue 7 FESEM, June 2016, Pages: 13-19.
3rd International Conference on Research Trends in Engineering, Applied Science and Management (ICRTESM-2017) ,"Vessel & Optic Disk Detection using Statistical Measures, at Institution of Electronics and Telecommunication Engineers, (IETE) , Erandwane, Pune.
International Consortium of Scientists and Researchers, Volume 19, Issue 1, May, 2017Research Paper
Effect of Dielectric Constant on temperature, wave vector, mole fraction, transition strength in quantum
well(mqw & msqw).
Global Journal of Medical Research: D Radiology, Diagnostic Imaging and Instrumentation, Optic Disc and Blood Vessels Screening in Diabetes Mellitus using Otsus Method, Volume 16 Issue 1, Online ISSN: 2249-4618 & Print ISSN: 0975-5888.
Journal of Ophthalmology & Clinical Research, Diabetic Retinopathy Detection Using Walter-Klein Contrast Enhancement, ISSN: 2573-9573, 10 Oct 2018.
International Journal Multimedia and Image Processing (IJMIP), Screening of Damage Regions in Retinopathy Using Segmentation-Color Space Selection, Volume 7, Issue 1, March 2017.

International Conference on Sustainable Materials for Advanced Research in Technology, Optic disk and blood vessel elimination using Otsus thresholding 2019
International Academic Conference on Development in Science and Technology (IACDST) Measuring Peripapillary Retinal Nerve Fiber Layer Thickness for Determination of Secondary Glaucomatous, Kyoto,Japan,28th May.

Current profession

Current professional activities type:

Working as Assistant Professor in Physics.