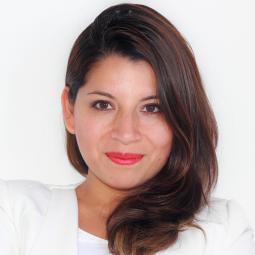 Membership type: full
Clarissa Rios Rojas
Country of origin: Peru
Currently in: Netherlands, The Hague
General field of specialization: Structural, Cell and Molecular Biology
---
Academic Background

Degrees

2017 Doctorate Structural, Cell and Molecular Biology

2010 Master Medical and Health Sciences incl Neurosciences

2008 Undergraduate Biological Systems and Organisms

Research and Profession

Current Research Activities

Other

I am a scientist with experience working at the Ministry of Environment in Peru and at the European Commission providing science-based evidence and advice for policymaking. She is the Founder and Director of the non-profit Ekpa'palek which is focused on the empowerment of Latin-American young professionals through programs of professional mentorships. She also has experience as a UN Women champion for women's economic empowerment, a UNESCO delegate, an Emerging Leader at the Atlantic Dialogues, a Young fellow at the Raisina Dialogues, a newspaper collaborator, an advisor at Women Economic Forum and as co-lead of the Science Advice working group at the Global Young Academy. Her work is also related to science diplomacy, gender equality, reduction of Inequalities and education for the Sustainable Development Goals. Praised international speaker, a leader with excellent communication and people skills (successful management and leadership of 50 professionals at Ekpa'palek). Global experience living and working in Europe, Latin-America and Australia.

Publications resulting from Research:

1. Reports:
"​First Report on Gender Equality". Agency for Environmental Assessment and Enforcement (Organismo de Evaluación y Fiscalización Ambiental, OEFA) at the Ministry of Environment in Peru.

2. Articles:
"Students need guidance in languages they speak" Nature 564, 163 (2018). doi: 10.1038/d41586-018-07674-6
"​Germ cells influence cord formation and Leydig cell gene expression during mouse testis development". Developmental Dynamics journal (2016).
"On the role of germ cells in mammalian gonad development: quiet passengers or back-seat drivers?" Reproduction (2015).
"Transcriptome analysis of the hippocampal CA1 pyramidal cell region after kainic acid-induced status epilepticus in juvenile rats". PLOS one journal. 2010
"Gene expression profiling of endometrial adenocarcinomas reveals increased apolipoprotein E expression in poorly differentiated tumors". Int J Gynecol Cancer journal. 2009
Advances in Molecular Genetic Studies Primary Open Angle Glaucoma in Peru. Dysmorphology - LAJD. 2009

3. Popular science articles:
"Mind-controlled genes, DNA origami....Science fiction material or close reality for therapeutics?". Australia and New Zealand Society for Cell and Developmental Biology (ANZSCDB) Summer Newsletter 2015
"The Ekpapalek Project: free programmes to promote the professional development of Latin American students". Revista Peruana de Divulgación Científica en Genética y Biología Molecular. 2016


Current profession

Current professional activities type:

Science Advice in Policymaking

Workshop and Conference Attended

2018 Course at the Geneva Centre for Security Policy (Switzerland) 8th Weapons Law and Legal Review of Weapons.

2018 Organized by United Nations' BWC Implementation Support Unit (Switzerland) Workshop on Cooperation and Assistance under article X of the Biological Weapons Convention (BWC).

2018 Course at the Geneva Centre for Security Policy (Switzerland) Geopolitical Analytical Skills for Business Leaders.

2018 Sponsored by the International Network for Government Science Advice: INGSA (Japan) Capacity Building Workshop on Science Leadership and Science Advice.

2018 ​Sponsored by The Observer Research Foundation and ZEIT-Stiftung Ebelin und Gerd Bucerius (India) Asian Forum on Global Governance and Raisina Dialogues Young Fellow.

2017 Jordan World Science Forum and Science Leadership Program "Avoiding the Weaponization of Research"

2017 ​Sponsored by The Joint Research Centre of the European Commission and the Ministry of Civil Affairs of Bosnia and Herzegovina (Bosnia-Herzegovina) Training on citizen engagement in Policy relevant Science, Technology and Innovation.

2017 Sponsored as a participant by AAAS, the International Network for Government Science Advice (INGSA), UNESCO and the Argentinian Ministry of Science and Technology (Argentina) South American Workshop on Governmental Scientific Advice / Science and policy symposium. ​

2016 Sponsored by The German Marshall Fund of the United States and the OCP Policy Center (Morocco) Atlantic Dialogues Emerging Leaders Program 2016​ .

Presentation given

2018

"Do-it-yourself biology movement in Latin America as a driving force of innovation and entrepreneurship".

Panama

Event: Open Forum in Science and Technology for Latin-America and the Caribbean

2018

"Human Mobility and European Integration: From Qualitative Approaches to Citizens' Engagement"

Austria

Event: Evidence and Policy Summer School Science, Policy and Demography: The role of population and migration for sustainable development in the European Neighbourhood

2018

"How to foster women leadership".

Germany

Event: Bucerius Summer School in Global Governance

2018

"The role of scientists in science diplomacy"

Chile

Event: Forum for Latin-American and Caribbean countries ​in Sustainable Development

2018

"The role of scientists in a post-truth era: Citizen Engagement, science diplomacy and policy making"

Thailand

Event: Science Outreach at Burapha University

2018

"Women – Building Endurance & Skills For Facing Challenges" & "Women in the Sciences : Opportunity & Challenges"

The Netherlands

Event: Women Economic Forum

2017

"Do I venture to study abroad?"

Empower Women (UN Women) and Ekpa'palek (Worldwide)

Event: "The roadmap to success webinars"

2017

"Empowerment Leader"

Peru

Event: Event about higher Education by the Australian Trade and Investment Commission

2016

"Breaking Barriers: Social and Gender (In)equalities"

Morocco

Event: Atlantic Dialogues

Prizes, Grants and Awards

Other Awards

Mar 2018

Award "Exceptional Woman of Excellence".

​Awarded at the Women Economic Forum - Europe 2018​.

Nov 2017

Empowering the Next Generation to Advance Open Access, Open Education and Open Data 2017. ​

Selected and sponsored by the Right to Research Coalition & SPARC to attend OpenCon2017 (Germany).

Jan 2017

UNESCO youth delegate at the week for Education in sustainable development and global citizenship​.

Sponsored by MGIEP-UNESCO and the Canadian Commission for UNESCO (Canada, 2017).

Nov 2015

UN Women champion for change​.

Selected by Empower Women from UN Women (USA, 2015).

Apr 2017

Hero at EDUEXPO. ​Selected speaker and titled "Empowerment Leader"

by the Australian Trade and Investment Commission (AUSTRADE) and StudyBrisbane.