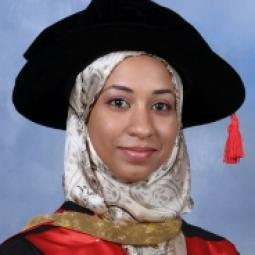 Membership type: full
Hazar Salama
Country of origin: Sudan
Currently in: Australia, Canberra
General field of specialization: Physics
---
Academic Background

Degrees

2010 Doctorate Physics

2004 Master Physics

2001 Undergraduate Physics

Research and Profession

Current Research Activities

Physics



Prizes, Grants and Awards

Other Awards

Feb 2013

Faculty for the Future Fellowship Award, Schlumberger Foundation

Fellowship awarded to women from developing and emerging economies to pursue PhD or Post-doctorate studies in science, technology, engineering and mathematics (STEM) disciplines at leading universities worldwide.

Dec 2010

Ria De Groot Prize

Best female postgraduate research student graduating from UNSW@ADFA

Feb 2006

University International Postgraduate Award (UIPA)

scholarship specifically intended to support international students to undertake a postgraduate research qualification in Australia and gain experience with leading Australian researchers. it covers international tuition fees and also provides a stipend.

Feb 2006

University College Postgraduate Research Scholarship (UCPRS)

The scholarship is awarded and administered by the University College to support students (both international and local) to undertake a postgraduate research degree at UNSW Canberra.