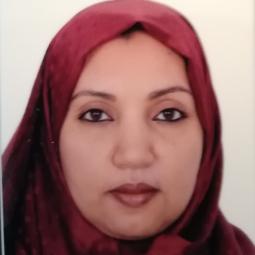 Membership type: full
Hiyam Abdulrahim
Country of origin: Sudan
Currently in: Saudi Arabia, Riyadh
General field of specialization: Social and Economic Sciences
---
Academic Background

Degrees

2010 Doctorate Social and Economic Sciences

1998 Master Social and Economic Sciences

1996 Undergraduate Social and Economic Sciences

Research and Profession

Current Research Activities

Social and Economic Sciences



Publications resulting from Research:

• Published Research Article (Contributions of the Private Higher Education Institutions in Providing Competitive Education Compatible to Knowledge Economy in Saudi Arabia During the Period (2005-2016) /The International Journal of Research Science and Management (IJRSM)/ volume 5(4)/April 2018.
Link : http://www.ijrsm.com/issues.html
• Published Research Article (Impact of Human Capital Input and Institutional Factors on Productivity of Female staff in Princess Norah Bint Abdulrahman University (PNU) /Business and Economic Journal/ OMICS/, volume 8(4): 324 (2017).
Link:https://www.omicsonline.org
• Published Research Article (Characteristics and trends of Employment in Saudi Private Sector in the light of vision 2030) /EMERICS / Korea Institute International Economic policy (KIEP)/ June2017
Link : https://goo.gl/96jT6E-.
• Published Research Article (Compatibility of Higher Education Specializations with the Employment in Economic Activities in Saudi Arabia in the Era of Knowledge Economy for the period 2010-2015) / Journal of Business Management & Social Sciences Research/ Blue Ocean Research Journals/ volume 5/ N 5 (2016).
Link : http://borjournals.com/a/index.php/jbmssr/article/view/2288
• Published Research Article, partnership with Professor Ahmed Zakariah (Role of Innovations in achieving knowledge Economy in Arab Countries)/ Al Ramah Journal for Researches and studies/ volume 19, 2016.
• Published Research Article (Role of Higher education and Employment policies in enhancing female participation in Labor Force in KSA during the period (2000-2013) /Scientific Journal of Commercial , Economic and Social Studies/ Al Neelen University /Volume (8)2016.


Current profession

Current professional activities type:

Research

Teaching

Higher Education Study

Hiyam A. bdulrahim (PhD) , Assistant Professor of Economics, the Former Chair Economic Department, Faculty of Business Administration at Princess Nourah University in Saudi Arabia. Specialized in Labor Economics and Human Development Studies . She has Experience in Higher Education in Saudi Arabia and Sudan for about 18 years, worked for two years as a Dean Faculty of Economics and Financial Studies, Sudan International University, Sudan. Dr. Hiyam Taught more than fifteen Economic courses in Arabic and English Languages. On research field, she Published 5 Articles in peer reviewed Journals and presented 7 research articles in regional conferences. She is an Editorial Board Member in Human Resources Journal since 2015 . She was a Key Facilitator for two projects of International Labor Organization (ILO) and an expert for two years, in Labor Force Survey, Ministry of Labor, Sudan. Dr. Hiyam is an accredited Trainer from the British Board, presented many training courses in Saudi Arabia and Sudan. Attended several training courses and workshops in Higher Education, planning and Personal fields. Participated in heading and membership of more than 20 committee in Saudi Arabia and Sudan. Regarding social services, participated in designing the Demand Plan for PNU for the Tenth Development Plan ( 2013). Conducted some training courses, seminars and workshops for the College of Business Administration.