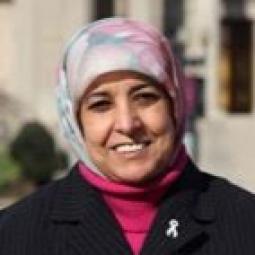 Membership type: full
Nafisa Al-Jaifi
Country of origin: Yemen
Currently in: United States, Richmond
General field of specialization: Medical and Health Sciences incl Neurosciences
---
Academic Background

Degrees

1996 Doctorate Medical and Health Sciences incl Neurosciences

Research and Profession

Current Research Activities

Medical and Health Sciences incl Neurosciences

NA

Publications resulting from Research:

Peer-reviewed journal articles (6):
- Pediatric Stroke: Prevalence, Types, Clinical Presentation, Risk Factors and Outcome in Yemen, International Journal of Innovative Science and Research Technology, Volume 5, Issue 5, May 2020
- Breast feeding promotion in Yemen, Kasr El Aini Medical Journal, Vol. 8, No. 4, July 2002, pg. 311
-Neonatal unconjugated hyperbilirubinaemia in Sanaa city, Kasr El Aini Medical Journal, vol.8, No.1, January 2002, pg.449
-Immunization coverage of the six killer diseases among children less than two years of age in Sanaa city, Kasr El Aini Medical Journal, Vol.7, No.1, March 2001, pg.337
-Acute flaccid paralysis surveillance as an indicator of poliomyelitis in Yemen during the period of 1998-2004, Faculty of Science Bulletin, Vol.18, Oct.2005
-Profile of Pediatric emergency cases in Yemen, Eastern Mediterranean Health Journal, Vol.14, No.2, March/April 2008, pg.366
-Risk factors of pathological unconjugated hyperbilirubinaemia among Yemeni newborn, Med.J. Cairo Univ./Vol.87, No.7, December,2019

Current profession

Current professional activities type:

Affiliations

Women Democratic Network (IRE)

White Ribbon Alliance for Safe Motherhood

Arabic Women Leadership Institute (OWLI)

Prizes, Grants and Awards

Other Awards

Jan 2014

Golden Shield Award of the Higher Council of Motherhood and Childhood (HCMC)

A recognition award for the accomplishments achieved with the implementation of the Child Rights Agreement, and the dedicated support to the childhood activities and the national development plans for the mother and the child in Yemen.

Jan 2012

Award of Recognition - NSMA NGO

An award for the efforts dedicated towards alleviating the suffering of mothers in Yemen.

Jan 2010

Leadership & Excellence Plaque - Ministry of Youth & Sport

An award from the Ministry of Youth and Sports for supporting youth issues.

Jan 2009

Presidential Award

An award from the President of Yemen for my contributions to the National Strategy for Childhood and Youth.