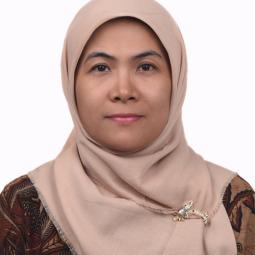 Membership type: full
Euis Nurul Hidayah
Country of origin: Indonesia
Currently in: Indonesia, Surabaya
General field of specialization: Engineering sciences
---
Academic Background

Degrees

2017 Doctorate Engineering sciences

Research and Profession

Current Research Activities

Engineering sciences

Most of my research are focusing on water and wastewater treatment, related to the effect of organic matter to the formation of DBPs. Another research activities are domestic wastewater treatment by using various simple and applicable technologies, such as oxidation ditch with algae, constructed wetlands, adsorption. We are starting to work on metabarcoding of phytoplankton combined with characterization of organic matter for water quality monitoring.

Current profession

Current professional activities type:

Affiliations

Ikatan Ahli Teknik Penyehatan Lingkungan Indonesia (IATPI)

Prizes, Grants and Awards

Other Awards

Jul 2019

ASEAN-India Research Training Fellowship

The AIRTF scheme is a fellowship scheme with the following objectives: - To promote mobility of scientists and researchers from the ASEAN-Member Countries to India and provide them opportunity to work at Indian R&D/ academic institutions to upgrade their research skills and expertise. - To facilitate exchange of information and contacts between the scientists and researchers of India and ASEAN Countries and create a network for building research collaborations.

Jul 2018

Awardee of 2018 Water and Sanitation Training Program by CAS-TWAS CEWE-RCEES, China.

CAS-TWAS CEWE-RCEES initiate to do training programs for water professionals from the developing and emerging countries.

Aug 2017

Awardee of 2017 Sustainable Soil and Groundwater Protection and Remediation by NCKU and MOST Taiwan

Sustainable Soil and Groundwater Protection and Remediation workshop, jointly organized by National Cheng Kung University (NCKU) and Taiwan Ministry of Science and Technology (MOST), are to enhance the communication among researchers of Soil and Groundwater (S&G) protection of Taiwan and those in the Southeast Asia and South Asian countries, to share S&G experiences in research and engineering, and to improve the quality of S&G research and applications in the above-mentioned countries.