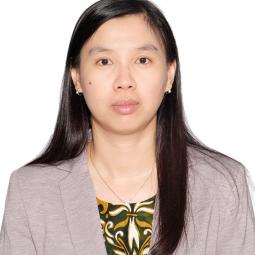 Membership type: full
Felycia Edi Soetaredjo
Country of origin: Indonesia
Currently in: Indonesia, Surabaya
General field of specialization: Chemical Sciences
---
OWSD Award
Academic Background

Degrees

2013 Doctorate Chemical Sciences

Research and Profession

Current Research Activities

Chemical Sciences

1. Bio nano natural polymer-bentonite composite: super adsorbent for toxic compounds in water and wastewater. Fundamental Research Grant, Directorate General for Higher Education, Indonesia Ministry of Education, 2017-2020 (Principal investigator). 2. Bentonite-biochar composite for heavy metal adsorbent. Competency Grant, Directorate General for Higher Education, Indonesia Ministry of Education, 2016-2018 (Principal investigator). 3. Application of response surface method and goal programming for optimization of palm cooking oil quality using reactivity spent earth. Interdisciplinary Grant, LPPM Unika Widya Mandala Surabaya, 2016 (Co- investigator). 4. Study of reaction mechanisms on preparation of bio-jet fuel using silica based catalysts, The World Academy of Sciences, 2015-2016 (Principle investigator), Research Grant Agreement no. 14-095 RG/CHE/AS_I-UNESCO FR: 324028591. 5. Producing biodiesel from cheap non-edible feedstock without using conventional acid/base catalyst. NTUST Collaboration Research Project, 2014 (Co-investigator).

Publications resulting from Research:

Sellaoui, L., Soetaredjo, F.E., Ismadji, S., Lima, E., Dotto, G.L., Benlamine, A., and Erto, A., "New insights into single-compound and binary adsorption of copper and lead ions on treated sea mango shell: Experimental and theoretical studies", Physical Chemistry Chemical Physics, Accepted (2017).

Soetaredjo, F.E., Ju, Y.H., Ismadji, S., Ayucitra, A. "Removal of Cu(II) and Pb(II) from Wastewater using Biochar-Clay Nanocomposite", Desalination and Water Treatment, accepted (2017).

Wijaya, C.J., Saputra, S.N., Soetaredjo, F.E., Putro, J.N., Lin, C.X., Kurniawan, A., Ju, Y.H., Ismadji, S. "Cellulose nanocrystals from passion fruit peels waste as antibiotic drug carrier", Carbohydrate Polymers, 175 (2017) 370-376

Santoso, S.P., Laysandra, L., Putro, J.N., Lie, J., Soetaredjo, F.E., Ismadji, S., Ayucitra, A., Ju, Y.H. "Preparation of nanocrystalline cellulose-montmorillonite composite via thermal radiation for liquid-phase adsorption", Journal of Molecular Liquids, 233 (2017) 29-37.

Ismadji, S, Tong, D.S., Soetaredjo, F.E., Ayucitra, A., Yu, W.H., Zhou, C.H. "Bentonite hydrochar composite for removal of ammonium from Koi fish tank", Applied Clay Science, 119 (2016) 146-154.

Soetardji, J.P., Claudia, J.C., Ju, Y.H., Hriljac, J.A., Chen, T.Y., Soetaredjo, F.E., Santoso, S.P., Kurniawan, A., Ismadji, S, "Ammonia removal from water using sodium hydroxide modified zeolite modernite", RSC Advances, 5 (2015) 83689-83699 (Impact Factor 2013 = 3.708).

Soetaredjo, F. E., Ismadji, S., Ju, Y. H., & Ayucitra, A. "Removal of ammonium from the aquatic environment using bentonite and its modified forms" in "Nanomaterials for water remediation: Inorganic Oxide Materials", Editor Mishra, A.K., SMITHERS Rapra, ISBN:978-1-911088-01-1 (2016), Shawbury, Shrewsbury, Shropshire, SY4 4NR, UK.

Current profession

Current professional activities type:

Member of Global Young Academy Member of Indonesia Young Academy of Science

Workshop and Conference Attended

2017 Trieste, Italy AAAS-TWAS Course On Science And Diplomacy

2016 Los Banos, The Philippines IFS-SEARCA Workshop on Collaborative Research

2016 Thailand ASEAN Science Leadership Program

2014 Indonesia Peer Review Workshop, US-Indonesia Frontiers of Science Symposium (US National Academy of Sciences – Indonesia Academy of Sciences

2013 Indonesia Workshop on Design and Optimization of Waste-water Treatment Installation

Presentation given

2014

Supercritical CO2 extraction of phytochemical from herbaceous plant

Batu, Indonesia

Event: Humboldt Kolleg The Voice of Asean Researchers in conjunction with International Conference on Natural Sciences (ICONS)

2015

Clay-biochar composites: preparation, characterization, and application

Bali, Indonesia

Event: Pores for thought: Porous materials for greener energy and the environment

2017

Waste and biomass valorization for environmental remediation and energy

Japan

Event: Guest Lecture in Osaka Institute of Technology

Prizes, Grants and Awards

OWSD Awards

Feb 2017

OWSD-Elsevier Foundation Award for Early Career Women Scientists

For her research on utilizing biomass for environmental remediation and renewable energy. Dr. Soetaredjo uses biomass and clay material to produce biosorbents, adsorbents and composites, which effectively remove hazardous compounds such as antibiotics, heavy metals and dyes from wastewater.

Other Awards

Aug 2016

First winner of Outstanding Lecturer of KOPERTIS VII for East Java

The award for outstanding lecturer in research and education in East Java region.

Jul 2013

105 The Most Prospective Indonesia Innovations 2013

Appreciation from Minister of Research of Technology, Indonesia for protective innovation.

Jun 2012

Finalist Australia Award Alumni 2012: Outstanding Young Alumni

Appreciation from Australian Embassy for outstanding achievement for alumni below 35 years.