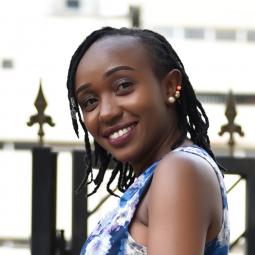 Membership type: affiliate
Emily Waigi
Country of origin: Kenya
Currently in: Kenya, Limuru
General field of specialization: Structural, Cell and Molecular Biology
---
Academic Background

Degrees

2013 Undergraduate Other

2018 Master Other

Research and Profession

Current Research Activities

Structural, Cell and Molecular Biology

Pursuing a Master's degree as a Fulbright fellow in Molecular Medicine at The University of Toledo in Toledo, Ohio on a Fulbright scholarship.

Current profession

Current professional activities type:

I am a research scientist involved in carrying out research in the field of cancer immunotherapy. As such, I am involved in different laboratory activities including carrying out cell culture work and different molecular assays. I also work with a team which purposes to develop proposals targeting various fields of stem cell application including in diabetes and malnutrition. An Assistant Research Officer at the Immunology section of CBRD in charge of both undergraduate and graduate trainees on attachment. I orient, train and teach them on both the theoretical and practical skills involved in CD4 enumeration using the BD FACS calibur flow cytometry equipment. Assigned secretary of the CBRD Scientific Committee which is in charge in overseeing that all the scientific and extracurricular activities within the center run smoothly.

Workshop and Conference Attended

2017 KEMRI, Nairobi Introduction to Phylogenetics by Inqaba Biotech

2017 KEMRI, Nairobi Training on scientific writing, publication, knowledge sharing and dissemination of information

2017 KEMRI, Nairobi REDCAP Data Management training

2017 KEMRI, Nairobi Training on the application of the BD FACSCantoII in collaboration with ICL, Addis Ababa, Ethiopia and facilitated by BD Biosciences

2016 KEMRI, Nairobi Workshop on applied linear regression and logistic regression

2015 KEMRI, Nairobi Training on sand fly identification and leishmaniasis diagnosis

2014 KEMRI, Nairobi USAMRU-K Training on Ebola Prevention and Control

2014 KEMRI, Nairobi KEMRI Annual Scientific and Health Conference (KASH)

2014 KEMRI, Nairobi Good Clinical Laboratory Practice (GCLP) Training

Affiliations

Christian Scientific Association of Kenya (CSAK)

Presentation given

2017

Quantification and comparison of the metabolic gene expression patterns (transcriptomic) of AFP Antigen specific T cells during singular and concurrent application of IL-21 and Rapamycin in vitro.

Port Louis, Mauritius.

Event: UNESCO-Merck Africa Research summit: The theme of the summit was the role of scientific research in responding to cancer and vaccine development-two emerging challenges in Africa

Prizes, Grants and Awards

TWAS Awards

Oct 2020

Other

Approved subscription for receipt of the latest Twas issues through e-mail.