OWSD Kenya National Chapter hosts workshop at icipe
August 06, 2019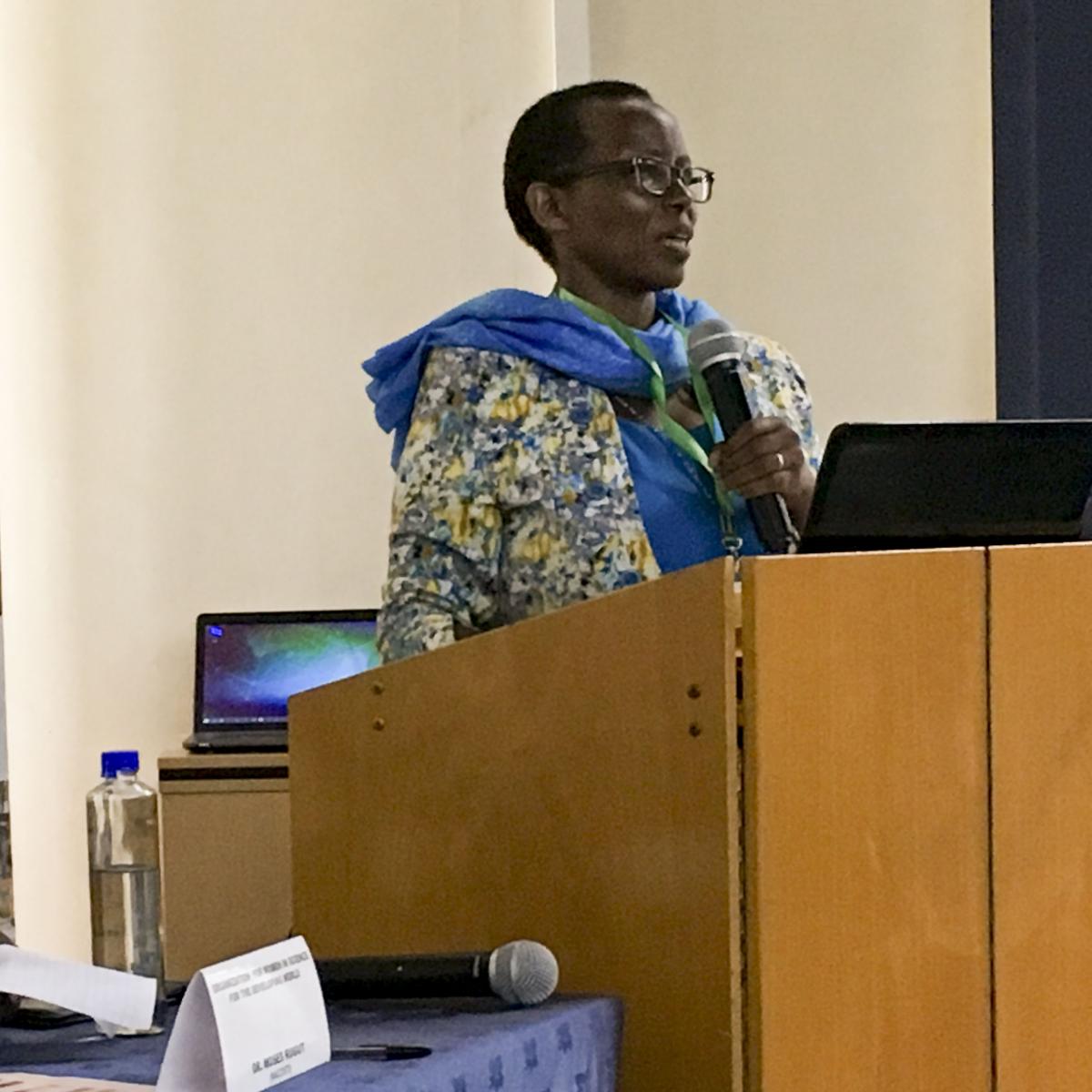 On 12 July, the Kenya National Chapter of OWSD hosted a one-day workshop at the Duduville campus of icipe, the International Centre of Insect Physiology and Ecology, in Nairobi. 
The workshop was opened by the National Chapter Chair Patriciah Wambugu of Egerton University, who welcomed participants and spoke about the importance of mentorship in the realization of OWSD objectives. She was followed by Esther Ndungu of icipe, on behalf of the head of icipe's Capacity Building and Institutional Development Programme, Rob Skilton. The opening ceremony was rounded out by other welcome remarks from representatives of the Kenya National Research Fund (NRF) and financial advisory company Minet. 
Linking with national science agencies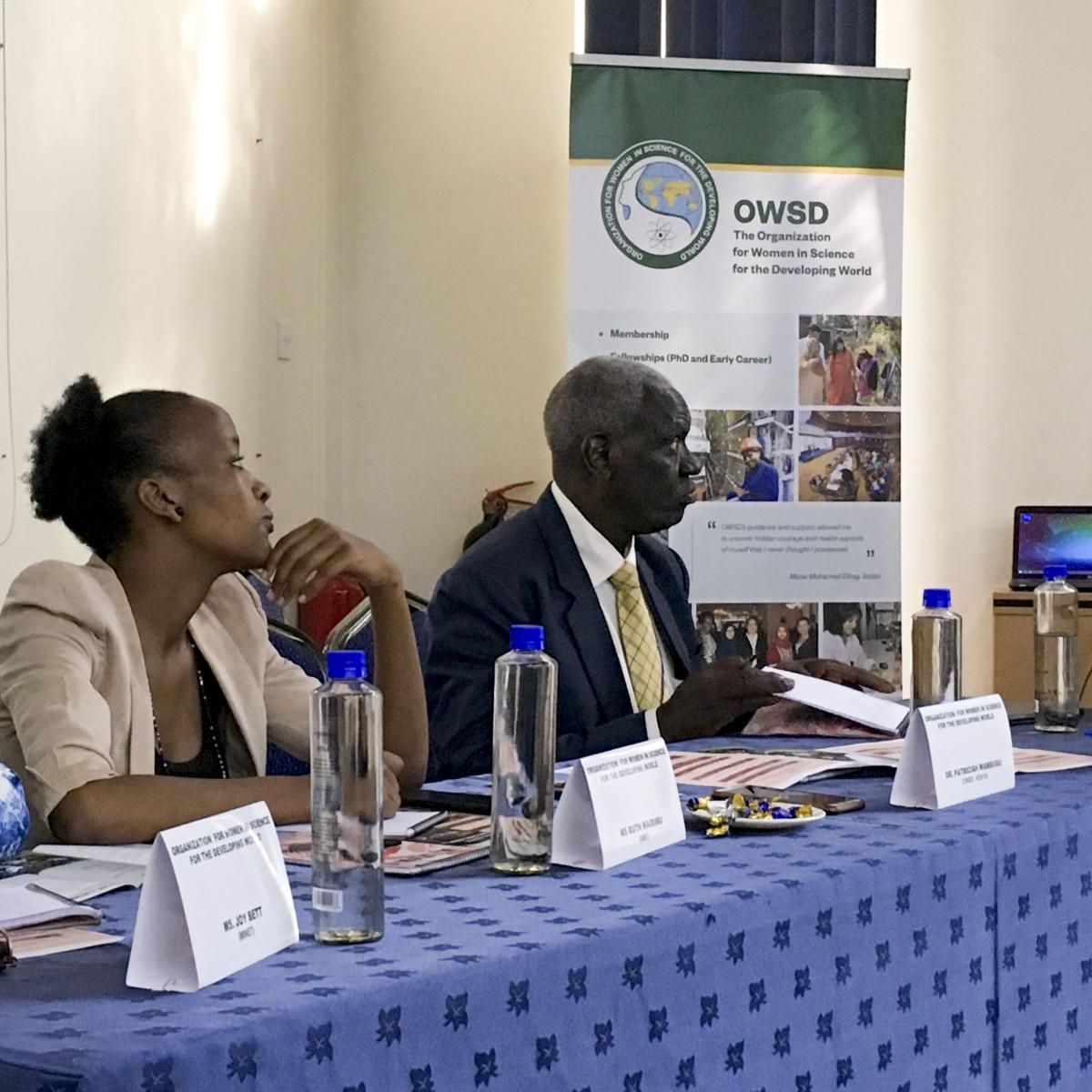 The workshop was attended by Moses Rugutt, Director General of the National Commission for Science, Technology and Innovation (NACOSTI), who also delivered welcome remarks on behalf of the Cabinet Secretary of Education George Magoha. Dr. Rugutt provided an overview of the research ecosystem in Kenya consisting of research institutes, universities, and the government bodies the Kenya National Innovation Agency, NRF, and NACOSTI, which play the vital roles of resource mobilization, regulation, registration, promotion of science, quality assurance and licensing of research. He emphasized that science, technology, and innovation will be key components of Kenya's Vision 2030 development blueprint, and that Kenya has zeroed in on four short- and medium-term priorities: manufacturing; housing; food security; and universal health care. Researchers were therefore advised to respond to these priority areas in order to attract funding from NRF, as well as external funders for both multi-institutional and multidisciplinary research. 
Rugutt also encouraged workshop participants to affiliate themeslves with the African Academy of Sciences, which is based in Nairobi, as well as with NACOSTI, extending an invitation to the National Chapter to hold meetings at NACOSTI's offices. He encouraged National Chapter members to recruit other scientists at NACOSTI to National Chapter membership, and shared several opportunities for the National Chapter members, including funding through national partnerships including the Newton Fund Programme and a NACOSTI-Japan partnership, mentoring of girls in STEM, and participation in Kenya Science Week (5-9 August 2019), and in the Next Einstein Forum in March 2020. Dr Rugutt also extended an invitation to two members of the OWSD Kenya National Chapter to participate in a two-day workshop on proposal writing, specifically targeted to researchers from the biological sciences.
Rugutt noted that women remain underrepresented in science and hence lauded the effforts of OWSD in encouraging and supporting women in science. He challenged the organization to partner with like-minded organizations to increase their impact, as well as with the Technical and Vocational Education and Training Authority (TIVETA). He finally recognized the efforts of icipe in supporting science education and for opening their doors to the OWSD Kenya National Chapter.
Inspiring women researchers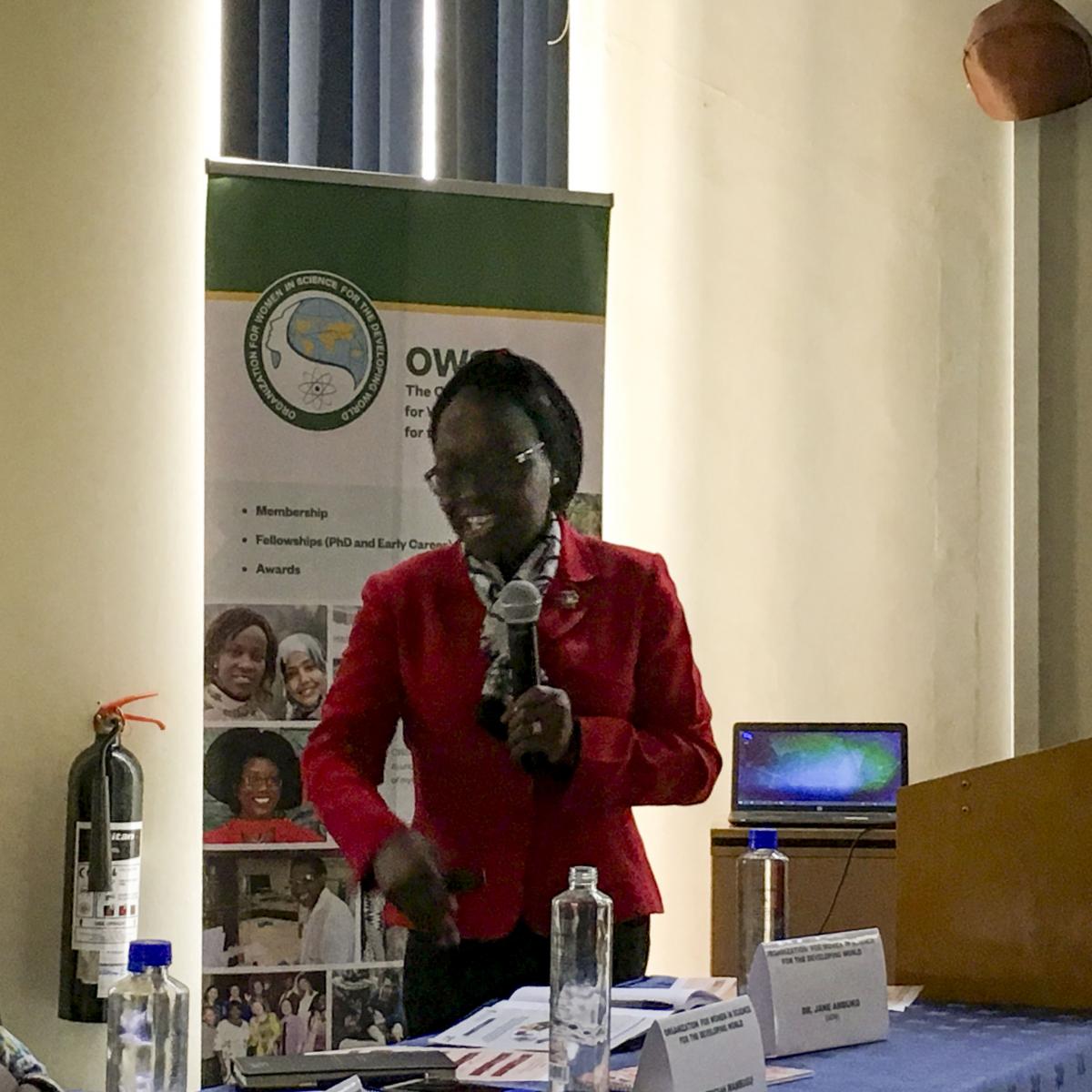 Following Rugutt, workshop participants enjoyed a presentation from Jane Ambuko, senior lecturer in the Department of Plant Science and Crop Protection at the University of Nairobi whose research aims to halve postharvest crop losses by the year 2025 and 2030. She shared her remarkable research experiences and career journey, which greatly motivated participants and encouraged them to apply their knowledge and skills to making a difference in society. She urged the women researchers to establish a clear idea of their research identity - what is their unique research niche? - and to have a purpose statement elaborating their research objectives. She additionally emphasized the importance of persevering in the face of rejection, instead using it as an opportunity to improve an application, and warned against the "silo mentality" of withholding information to limit competition. Finally, she encouraged participants to think beyond being part of a research team, and to take on the role of being the principal investigator on research projects. 
Later in the workshop, a second talk was given by National Chapter member Lexa Matasyo of the University of Eldoret, on the subject of emotional intelligence. The talk discussed the skill of emotional management, in the workplace and outside of it. A short exercise gave participants an idea of how well they are able to manage their emotions, and some tips for better management were shared.
Training in reference software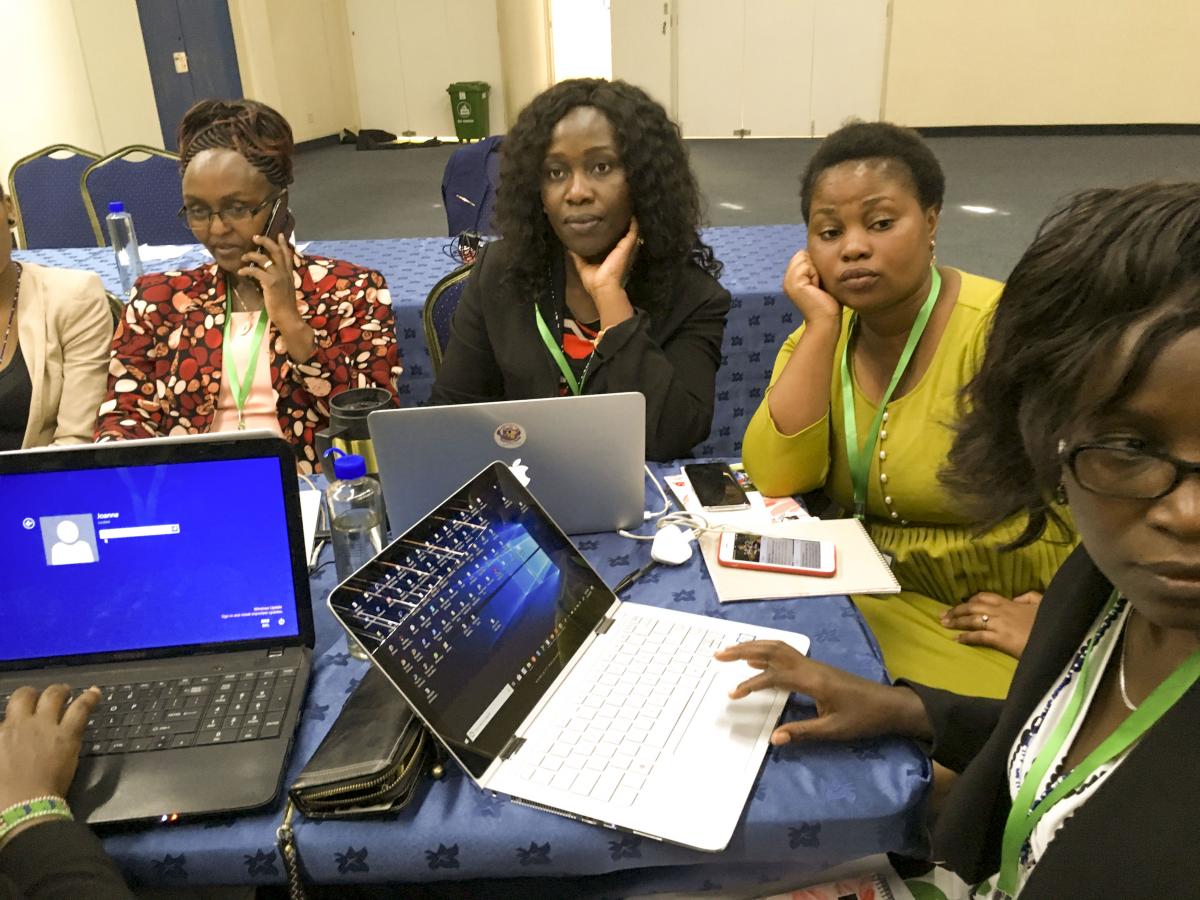 In addition to inspiring talks, the workshop also included a hands-on training session for participants on the use of the Zotero standalone referencing software when writing research proposals, theses, or journal articles. The training was led by the OWSD Kenya National Chapter Secretary Zipporah Wanjiku, a researcher in the Department of Physical Sciences at Chuka University. Participants were introduced to the advantages of using a referencing software and walked through the use of Zotero, which is a free software available for download online. The training also included a brief practical session on using citations and compiling a quality reference section.
Poster presentation and post-conference report
During the latter half of the workshop, National Chapter Vice Chair Elizabeth Njenga of the University of Eldoret provided a recap and highlights from the OWSD Kenya National Chapter launch and OWSD Regional Conference for Africa in 2018. 
Finally, the workshop concluded with a poster presentation by Lydia Ogonda, a PhD student and OWSD member from the University of Nairobi. 
The OWSD Kenya National Chapter launched in September 2018. It is hosted at icipe.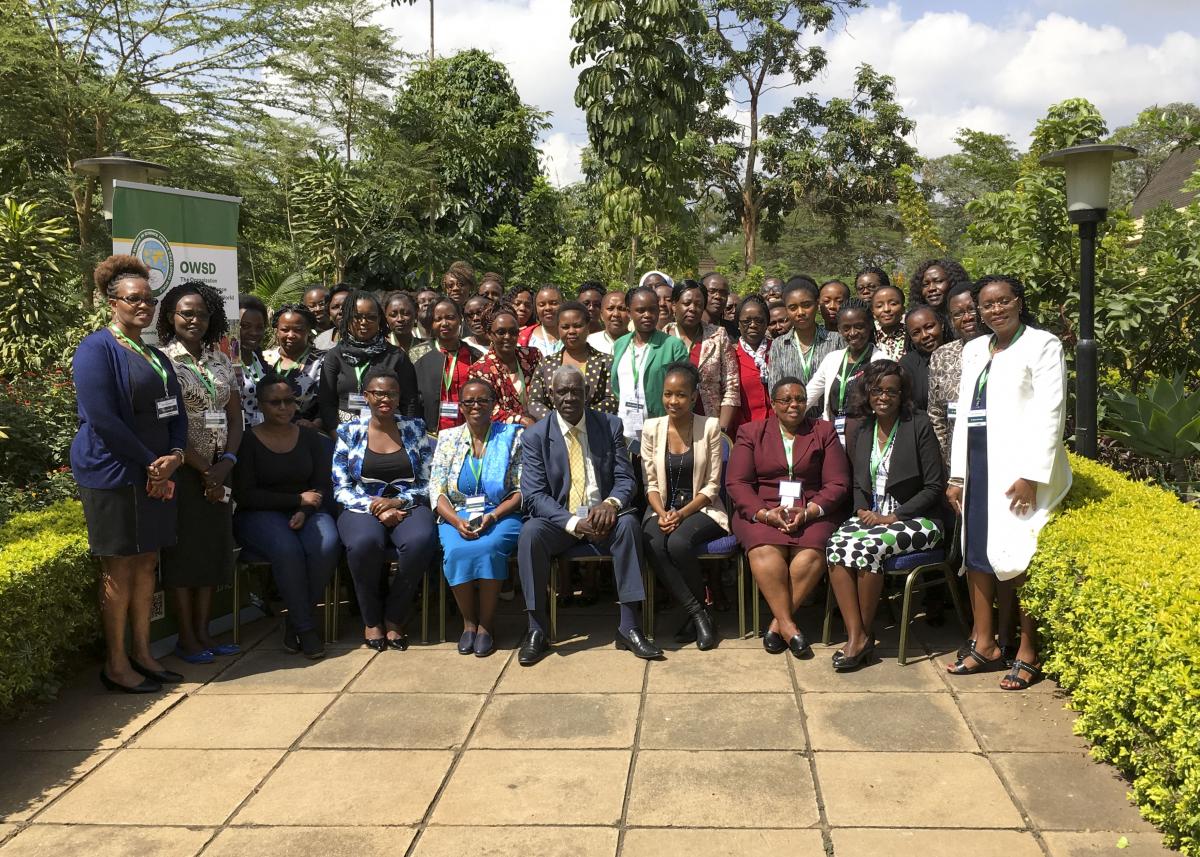 Workshop participants at icipe